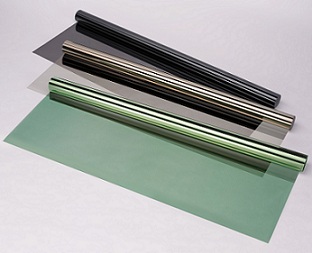 FEATURES
--- High IR resistance
--- Hybrid Dyed with Metal
--- Long-last colored than traditional dyed film
HIGHLIGHTS
WVRC series: Hybrid Dyed Metal film series is for automotive/commercial/residential. Produced by extrusion process, color chips are melted and place on top of the films; then electroplate metals onto the film. It could ultimately lower the IR and UV in the most effective way possible. High IR rejection range from 45%~84%, the series offers the best solution for heat rejection.
The installation of the solar window films will increase the energy efficiency by 95% according to our lab study.
Utilizing tiny metal molecular in the film, this makes the film extremely clear to view from inside especially driving at night, but very difficult to see through from outside increase privacy. The tiny molecular in the film also will not bend the light when light go through the glass and film; but block glare at the same time.
As a manufacturer, we are able to make all kinds of films based upon your request:
---VLT
---Color
---Thickness
---IR Reject
---Customized Packing & Logo
Please feel free to use our ENQUIRY FORM to tell us what you like!
| Product code | CR | VLT | IR Reject | UV cut | Color / Design | MIL | Interior Reflection | Exterior Reflection | Total Solar Energy Rejection | Solar Heat Gain Coefficient |
| --- | --- | --- | --- | --- | --- | --- | --- | --- | --- | --- |
| WVRC-CX01 | | 1%±0.1% | 84% | 99% | Dyed Metal | 1.2 | 4.8% | 4.5% | 94% | 0.19 |
| WVRC-CX05 | | 5%±1% | 52% | 99% | Dyed Metal | 1.2 | 4.9% | 4.5% | 75% | 0.42 |
| WVRC-CX15 | | 15%±2% | 54% | 99% | Dyed Metal | 1.2 | 5.3% | 8.9% | 75% | 0.43 |
| WVRC-CX20 | | 20%±2% | 45% | 99% | Dyed Metal | 1.2 | 5.2% | 5.2% | 64% | 0.47 |
| WVRC-CX35 | | 35%±3% | 44% | 99% | Dyed Metal | 1.2 | 5.4% | 8.5% | 57% | 0.53 |
| WVRC-CW01 | | 1%±0.1% | 90% | 99% | Charcoal | 1.2 | 4.2% | 14.2% | 96% | 0.12 |
| WVRC-CW05 | | 5%±1% | 77% | 99% | Dyed Metal | 1.2 | 4.5% | 11.8% | 88% | 0.29 |
| WVRC-CW10 | | 10%±1% | 67% | 99% | Dyed metal | 1.2 | 5.1% | 11.9% | 81% | 0.41 |
| WVRC-CW20 | | 20%±2% | 60% | 99% | Dyed Metal | 1.2 | 5.0% | 12.7% | 72% | 0.45 |
| WVRC-CW30 | | 30%±2% | 55% | 99% | Dyed Metal | 1.2 | 5.0% | 12.7.0% | 64% | 0.46 |